WRITING RECORDING GIGGING!
 
In the height of those dark lockdown days I made a promise to myself: if we get outta of here I'm gonna dive headlong into my musical collaborations and see what kind of music we can make in these different lineups. Life's too short, I thought (and still think) to myself.
 

 
I'm grateful to say that this has come to fruition. My musical cup is full-to-overflowing. Lucky me!
 

 
Banjoist Dan Walsh and I continue to launch our newly formed duo, with our new CD going out to the media as we speak and gigs going into the diary. Aaron Catlow and I have enjoyed a fabulous year of gigs and festivals, with our new CD "Ready For The Times" flying off the CD table. After our final gig for 2022 at The Hawth Theatre in late October, we will hatch cunning and delightful plans for next year. 
 

 
Last, but certainly not least, my friend Rab Noakes and I have begun a project first discussed in 2018: a recording of the songs of Don Everly. I'm pleased to say we recorded the album last week over 3-days at Chem19 Studio near Glasgow with a crack band of musicians (Signy on drums, Kevin on bass, Conor on pedal steel and electric guitar, Hillary on piano and me and Rab on acoustic guitars and vocals). I've never been involved in a recording session quite like this one: it was like California bougainvillea in full bloom. To get to record with a friend and, if I'm honest, a bit of a hero of mine (I've known Rab's music since I was in my early 20s. Some of you long-time fans may remember a song called "Dublin Take Me" that I used to play pretty much every gig....yea, that's one of Rab's songs!), well, that's just the icing on the cake.
 

 
And in between all this, songs have been a-simmering away....from the stories I've collected on my travels, from the inspiration that comes when one takes the time to pay attention to what's going on.
 

 
Thank you for joining in the ride!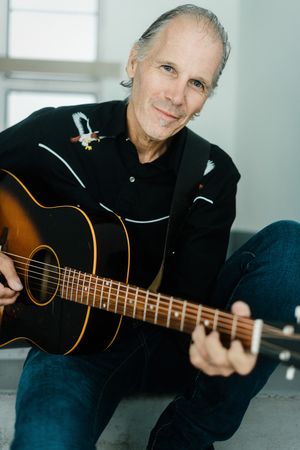 (Photo by Kris Kesiak)
---
AUTUMN CONCERTS ABOUND!
 
October
 
6th Parlour Concerts (Reservations), Ardley, Oxfordshire (SOLO)
 
7th The Old Forge, Cranford, Northamptonshire  (SOLO) 
 
14th SoundBox, Chester, Cheshire (Brooks & Dan Walsh)
 
21st Village Hall, Rampton, Cambridgeshire. (SOLO)
 
22nd Live Music at St. Nick's, Beverley, East Yorkshire (Brooks & Dan Walsh)
 
23rd Springthorpe Village Hall (Reservations), Springthorpe, Lincoln (SOLO)
 
27th Uxbridge Folk Club, Uxbridge (Brooks & Boo Hewerdine)
 
29th St Saviour's Community Centre, Retford, Northamptonshire (SOLO)
 
30th The Hawth Theatre, Crawley (Brooks & Aaron Catlow)
 

 
November
 
USA SOLO TOUR
 
3rd Flying Goose Brew Pub, New London, NH USA
 
4th FolkUs Project, Syracuse, NY USA
 
6th Sunroom Songwriter's Series House Concert, Dover, DE USA (Reservations)
 
9th The Exchange, Bloomsburg, PA USA (Reservations)
 
10th DMusicGirl Concert Series, The Haven, Lagond Music, Elmsford, NY USA. (Reservations)
 
11th Redding Community Center, Redding, CT USA (Info)
 
12th Stone Church Coffee House, Bristol, RI USA
 
13th The Blues Cafe, Southbury, CT USA (Reservations)
 
15th The Folk Club, Herndon, VA USA
 
BACK IN THE UK
 
19th-20th Guitar Workshop, Marlborough (sold out)
 
23rd Corncutter Promotions Presents!, The Louis Marchesi, Norwich (Brooks & Dan Walsh) 
 
24th The Forge, Basingstoke (Brooks & Dan Walsh)
 
25th Roots Music Club, Doncaster (Brooks & Dan Walsh)
 
26th Fulbourn Arts, Fulbourn, Cambridgeshire (Brooks & Dan Walsh)
 

 
December
 
3rd The Lightship, Blyth, Northumberland (Brooks & Dan Walsh)
 
9th Great Easton Village Hall, Great Easton (Brooks & Dan Walsh)
 
 
---
TORNADO SMITH, MARJORIE DARE, A LIONESS AND A LAMB
 
Inspired by my song "Tornado Smith" (which some of you know from my gigs or from my recording with Dan Walsh), a listener sent me their thoughts on this unique character in the motorcycle/Wall-of-Death community.
 

 
"A brilliant story - I guarantee you'll remember! - emotionally right there with this rather sad man who wanted to be someone and had the guts, drive and chutzpah to do it....and it all ends sadly for the lioness!"
 

 
Here's a photo of them all - Tornado, Marjorie, the Lioness and even the lamb. Life is indeed stranger than fiction. I don't make (most) of this stuff up!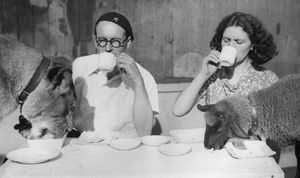 ---
FREE DOWNLOAD FOR OCTOBER
 
My friend Mike is the owner/engineer of MCA Studios. He also mixes live sound and has done that for me on a few occasions. He has a way of capturing my voice and acoustic guitar that is exactly the way I want to hear it. We never discussed it, he just does it. So when he invited me to his studio to record demos of my new songs, I jumped at the chance. Here's one of the songs from that demo session. It's called "Holding Out For Rosalyn" and it's about a conversation I'm having with a fella that's got it real bad for Rosalyn. He has plan. And he's very patient. How Rosalyn responds.....well, that's in the lap of the gods. There's a code at the bottom of this email which should get you the free track. Let me know if you have any difficulties and I'll sent it to you directly.
---
GUITAR WORKSHOP - ADVANCED NOTICE!
 
14-15 January 2023
 
I'm running a guitar weekend on 14-15 January 2023 in Swindon, Wiltshire. If this is something you might like to do - playing guitar with fellow enthusiasts is a great way to stave off those January blues! - then get in touch. Space is limited to 12 participants. To get more details, send me an EMAIL with CHASING THE BLUES in the subject line. 
---