Biography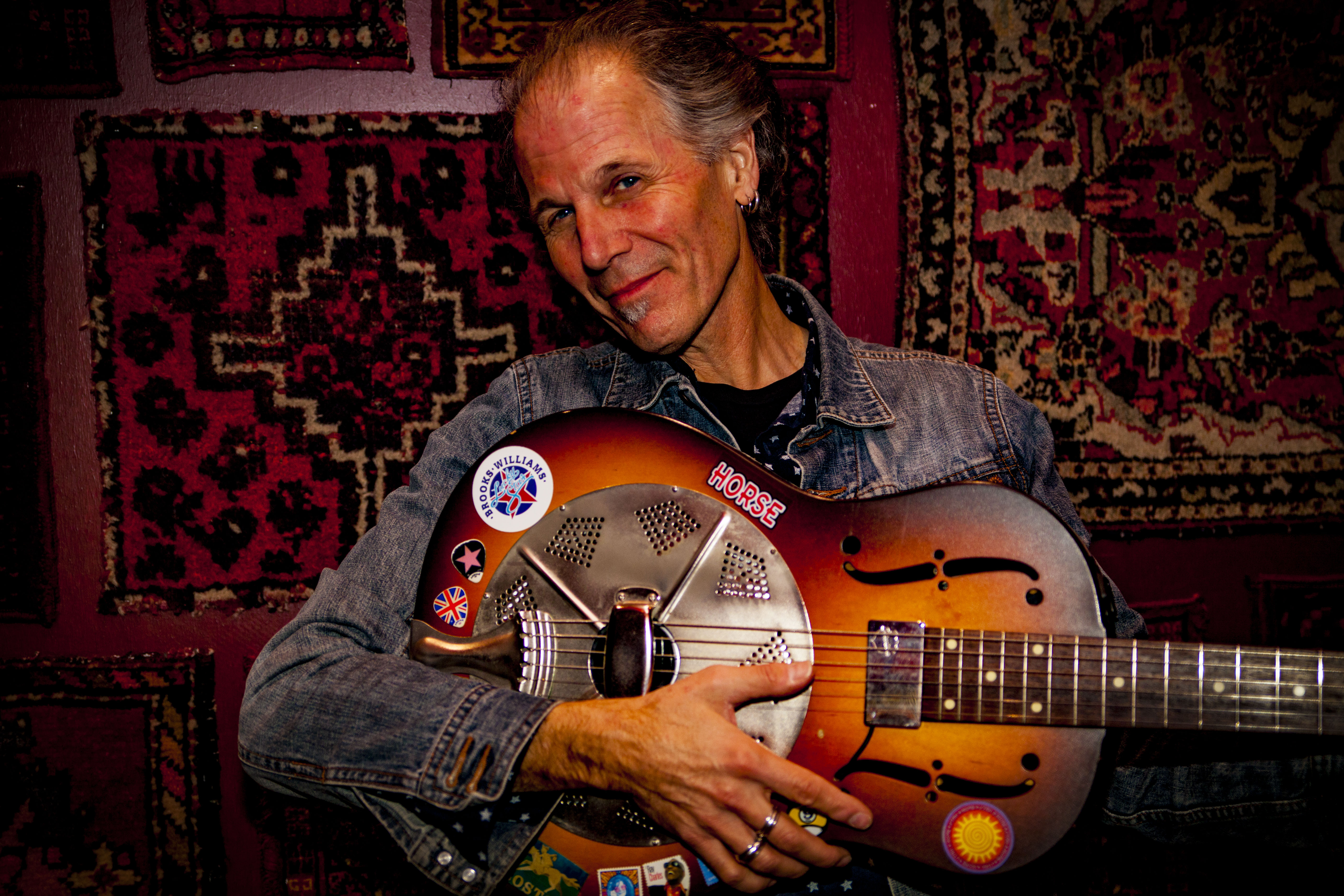 BROOKS WILLIAMS
"Brooks Williams is one of those select few 'how on earth does he do it?!' artists." (Fatea) 
Cambridge UK-based, Statesboro, Georgia US-born guitarist, singer and songwriter Brooks Williams is admired by both listeners and fellow musicians, and has been a leading light on the acoustic music scene for three decades. "He was playing Americana before it had been given the name" (CMP). 
Brooks Williams' guitar skills are evident as he effortlessly slides in and out of folk, blues and country. It comes as no surprise he is listed in the Top 100 Acoustic Guitarists. 
He wraps that guitar playing around songs with rich narratives about gold prospectors, guitar players, motorcycle riders, golden palominos and ne'er-do-wells, and sings them with a voice you 'melt into.' 
Born in Statesboro, Georgia USA, Williams moved to Boston at the height of that city's burgeoning singer-songwriter scene. In the early 1990s, he did his apprenticeship in the bars and clubs in New York and New England and cut his teeth supporting artists like Shawn Colvin, Chris Smither, Rory Block, Leo Kottke, Odetta, Billy Bragg and Taj Mahal. 
His first album, North From Statesboro, caught the attention of The Washington Post and National Public Radio, which set the ball rolling and Williams never looked back. People took notice and acoustic music radio played him from the very beginning, including WUMB-FM in Boston, where Williams is one of their Top 100 Artists Of All-Time. 
In subsequent years he has released a staggering 31 recordings in 32 years for labels like Green Linnet Records, Solid Air Records, Signature Sounds and Reveal, including Work My Claim, which Blues Matters calls "a career-defining statement, an important legacy, and a lifetime achievement." 
Never one to shy away from the road, the list of venues and festivals Brooks Williams has played is staggering. Newport, Winnipeg, Cropredy, Cambridge, Philadelphia, are but a few of many. 

Alongside his solo shows, Brooks Williams regularly performs with a host of fellow-musicians. 
One such collaboration is his duo with fiddler Aaron Catlow. With two albums under their belt (Ghost Owl, short-listed 2021 Instrumental Album Of The Year, and Ready For The Times), and a third on the way, AmericanaUK says the duo is "live music at its best."
Over the years other collaborations include singer-songwriter Boo Hewerdine (they recorded three albums under the name State Of The Union), banjoist Dan Walsh, singer Sloan Wainwright, bluesman Hans Theessink, and the late-great singer-songwriter Rab Noakes, with whom Williams recorded Should We Tell Him: Songs By Don Everly shortly before his passing. 
Brooks Williams is "quite simply one of the most unassuming, natural performers on the circuit, and his easy, relaxed manner conceals the greatest level of true expertise." (Fatea)

PRESS
Read A Full Interview! RnR Interview

QUOTES
"He's quite simply one of the most unassuming, natural performers on the circuit, and his easy, relaxed manner conceals the greatest level of true expertise, whether using jaw-droppingly effortless fingerstyle or soulful slide to accompany his extensive repertoire of songs (many, although self-penned, are wholly idiomatic, authentic creations). He's been at the top of his game ever since I can remember, and he shows no sign of slowing down or resting back on past glories." FATEA

"He is a lovely player, a lovely singer and a great writer. Brooks Williams is the real thing." Martin Simpson

"He has a beautiful voice that you just melt into." AmericanaUK

"It is pure talent, hard work and relentless touring which has brought him to the pinnacle of his career." Blues In Britain

"One of the most consistently excellent musicians in roots music. On top of all this is his songwriting which stands comparison with virtually any of his peers." American Roots UK

"Melodic virtuosity on the guitar that runs like liquid from his fingers." The Irish News

"Dazzling guitar work!" Acoustic Guitar

"How soulful a solo guitarist can be when he has talent, taste and astonishing technique." Blues Revue

"Deft, tasteful guitar chops." Rolling Stone

DISCOGRAPHY
"

It is pure talent, hard work and relentless touring which has brought Brooks Williams to the pinnacle of his career."
— Dave Scott, Blues Bytes