FORTUNE BY DESIGN!
 
Encourage by so many people who saw our split-screen performance of "Columbus Stockade Blues" way back in 2020, Dan Walsh and I formed a duo. Over the past year we've done a handful of gigs, got ourselves an agent and have many more gigs on the way. We also made a live-in-the-studio recording called Fortune By Design . Be the first to get a CDs or Download. Available HERE.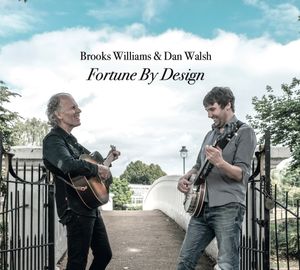 READ SOME MORE ABOUT WHAT WE'RE DOING HERE!
---
AUTUMN CONCERTS & TOURS!
 
September
 
3rd Gatehouse Theatre, Stafford, West Midlands (Brooks & Dan Walsh) 
 
4th The Swallow Theatre, Newton Stewart, Dumfries & Galloway (Brooks & Dan Walsh)
 
15th St Ives Festival, St Ives, Cornwall (Brooks & Dan Walsh)
 
18th Glad Street Cafe, Glasgow (Brooks & Rab Noakes)
 
23rd Rye Arts Festival, Rye, East Sussex (Brooks & Aaron Catlow)
 

 
October
 
6th Parlour Concerts (Reservations Required), Ardley, Oxfordshire (SOLO)
 
7th The Old Forge, Cranford, Northamptonshire  (SOLO) 
 
14th SoundBox, Chester, Cheshire (Brooks & Dan Walsh)
 
21st Village Hall, Rampton, Cambridgeshire. (SOLO)
 
22nd Live Music at St. Nick's, Beverley, East Yorkshire (Brooks & Dan Walsh)
 
23rd Springthorpe Village Hall, Springthorpe, Lincoln (SOLO)
 
27th ? Uxbridge Folk Club, Uxbridge (Brooks & Boo Hewerdine)
 
29th Concert, Retford, Northamptonshire (SOLO)
 
30th Crawley Blues Club, The Hawth, Crawley. (Brooks & Aaron Catlow)
 

 
November
 
USA SOLO TOUR
 
3rd Flying Goose Brew Pub, New London, NH USA
 
4th FolkUs Project, Syracuse, NY USA
 
6th Sunroom Songwriter's Series House Concert, Dover, DE USA Make Reservations
 
9th The Exchange, Bloomsburg, PA USA Make Reservations
 
10th DMusicGirl Concert Series, The Haven, Lagond Music, Elmsford, NY USA. Make Reservations
 
12th Stone Church Coffee House, Bristol, RI USA
 
13th The Blues Cafe, Southbury, CT USA Make Reservations
 
15th The Folk Club (tbc), Herndon, VA USA
 
BACK IN THE UK
 
19th-20th Guitar Workshop, Marlborough (sold out)
 
23rd Corncutter Promotions Presents!, The Louis Marchesi, Norwich (Brooks & Dan Walsh) 
 
24th The Forge, Basingstoke (Brooks & Dan Walsh)
 
25th Roots Music Club, Doncaster (Brooks & Dan Walsh)
 
26th Fulbourn Arts, Fulbourn, Cambridgeshire (Brooks & Dan Walsh)
 

 
December
 
3rd The Lightship, Blyth, Northumberland (Brooks & Dan Walsh)
 
9th Great Easton Village Hall, Great Easton (Brooks & Dan Walsh)
---
GUITAR WORKSHOP - ADVANCED NOTICE!
 
14-15 January 2023
 
Plans are in the works to run a guitar weekend on 14-15 January 2023 in Wiltshire. If this is something you might like to do - playing guitar with fellow enthusiasts is a great way to stave off those January blues! - then save the dates. Space is limited to around 12 participants. Details are forthcoming. If you're super-sure you want to do it and want to be notified before everyone else, then send me an EMAIL with CHASING THE BLUES in the subject line. 
---
VINYL!
 
In 1995 I recorded an album called Knife Edge at Grant Avenue Studio in Ontario. The album was produced by Colin Linden and featured Colin and the rhythm section of what is now Black And The Rodeo Kings. It was recorded direct to analog tape, which has a very warm sound, and made my acoustic guitar sound massive! Though very much 'of its time,' it was a real turning point for me in so many ways. The recording came out and did its thing. In due time it ran its course and ended up out-of-print.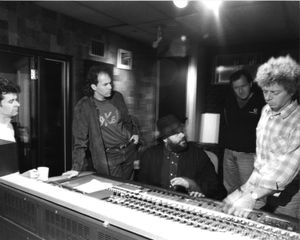 (Johnny Dymond, Me, Colin Linden, Gary Craig and Bob Doidge at Grant Avenue in 1995.)
 
In the height of Lockdown 2020 I contacted Bob and Amy at Grant Avenue and was delighted that they still had the tapes. We all thought it would sound great on vinyl. The original CD of Knife Edge was too long to fit on a vinyl LP, so we had to leave off some songs, but with Bob and Amy's help I edited it down to 11 tracks and in April 2021 released a limited edition (250 copies only) LP. There's less than a 100 copies left so if you fancy some vinyl, order yours HERE. Scroll down the page and you'll find it. Only £10 plus postage!
---
FREE DOWNLOAD FOR SEPTEMBER
 
A home demo I made in 2021 with Kris Driver, Findlay Napier and Boo Hewerdine. It's my arrangement of the Paul Metser's song, Farewell To The Gold, a song about the New Zealand gold rush. Think of it as a New Zealand version of King of California. We each take a verse and all four of us sing on the chorus. I'm playing all the acoustic guitars and Kris is playing the electric guitar. There's a code at the bottom of this email which should get you the free track. Let me know if you have any difficulties and I'll sent it to you directly.
---