SUMMER FEAST!
 
This week I get to partake in a feast of music. There are two gigs with Dan Walsh, one with Ran Noakes and one with Aaron Catlow. I feel very blessed to get to play music and hang out with these talented friends.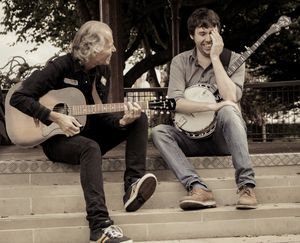 Dan Walsh and I will be playing Lyceum Folk Club in Newport Wales on Thursday, 14th July and at The Green Note in London on Sunday, 17th July. I'm pretty sure we'll play all of our forthcoming album!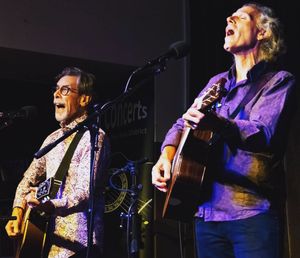 Rab Noakes and I will be singing our little hearts out at The Aurrie for Largo Arts Week in Fife, Scotland on Saturday, 16th July. Rab's got some great new songs we've added to our set too!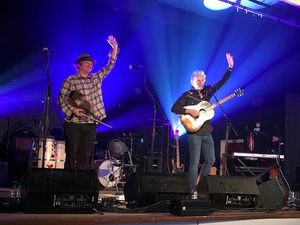 Aaron Catlow and I are rounding out summer run of festivals with a show at the lovely Ellis Theatre in Marlborough, Wiltshire. I'm delighted Aaron can join me for my 'annual' show. We are ready to rock, in an acoustic, folk-ish kind of way!
---
READY FOR THE TIMES!
 
Do you have your copy? Aaron and I are loving playing the songs from this recording and thank you all for your positive response to our shows. We're hoping to book a lot more for next year. Thank you to all the radio stations giving it a blast too. We appreciate the chance for our music to be heard. Get your CD or Download HERE.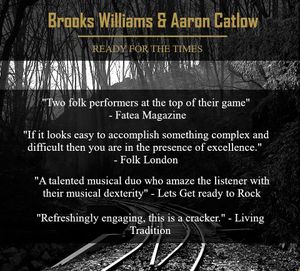 ---
CONCERTS SUMMER 2022
 
JULY
 
14th Lyceum Folk Club, Newport, Wales (Brooks & Dan) 
 
16th Largo Arts Week, Fife, Scotland (Brooks & Rab) 
 
17th The Green Note, Camden, London (Brooks & Dan)
 
18th Ellis Theatre, Marlborough, Wiltshire (Brooks & Aaron)
 
29th Blues In The Afternoon, Frinton-On-Sea, Essex (Brooks solo)
 
29th Club Stage Cambridge Folk Festival (19:40 – 20:25)
 
AUGUST
 
6th Down Home Festival (sold out!)
 
7th Broadstairs Folk Festival, Kent (Brooks & Dan) 
 
14th Whitstable Sessions, Kent (Brooks & Boo)
 
SEPTEMBER
 
3rd Gatehouse Theatre, Stafford (Brooks & Dan)
 
4th The Swallow Theatre, Dumfries & Galloway (Brooks & Dan)
 
10th Great Easton Village Hall, Leicestershire (Brooks & Dan)
 
15th St Ives Festival, St Ives, Cornwall (Brooks & Dan)
 
18th Glad Street Cafe, Glasgow (Brooks & Rab)
 
23rd Rye Arts Festival, East Sussex (Brooks & Aaron)
---