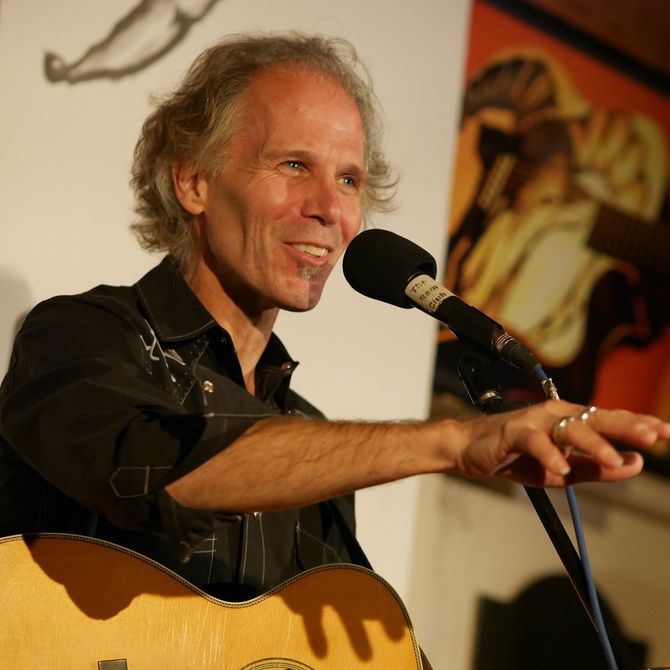 Brooks Williams
"Brooks Williams is one of those select few 'how on earth does he do it?!' artists." (Fatea)
Brooks Williams is a Cambridge UK-based, Statesboro, Georgia US-born guitarist singer and songwriter.

With over 30-plus recordings and 30-plus years of touring, Williams is named one of WUMB-FM Boston's Top 100 All-Time Artists and is listed in the Top 100 Acoustic Guitarists. He was playing Americana before it was called that.

Known for both solos shows and collaborations, RnR writes, Williams is a "guitarist in possession of rich vocal powers and a talent for lyrical imagery, his songs are imbued with uplifting generosity" (Read Full RnR Interview, Road Dog).

His collaborations include shows with ace fiddler, Aaron Catlow. Their new album is called Ghost Owl, which Northern Sky says is "Rich in texture and devoid of a single wasted note."

Also, his long and fruitful songwriting partnership with Boo Hewerdine. They call themselves State Of The Union and have three recordings so far and a fourth on the way in 2022.

There is also Brooks' new collaboration with virtuoso banjoist Dan Walsh. The two will be recording an album in the next couple months and hitting the road shortly thereafter.

Brooks also does shows from time-to-time with Rab Noakes, Findlay Napier, Sloan Wainwright and Hans Theessink.

New music launches on Brooks' YouTube channel regularly (please subscribe!). Plus, Brooks' Song Archive, for all you guitar and singing enthusiasts. Vinyl, CDs and downloads (DL) are available in the Store.

Brooks Williams is "quite simply one of the most unassuming, natural performers on the circuit, and his easy, relaxed manner conceals the greatest level of true expertise." (Fatea)
NEWS
18 Oct 2021 Spiral Earth reviews Ghost Owl. (Read here)
12 Oct 2021 Interview on The Folk Club. (Listen here)
8 Oct 2021 Songlines reviews Ghost Owl! (See it here)
7 Oct 2021 Yet another Ghost Owl review! (Spirit Rocks)
7 Oct 2021 Another Ghost Owl review! (Fatea)
7 Oct 2021 Ghost Owl review! (Folking.com)
6 Oct 2021 "Ghost Owl is absolutely wonderful!" (Mike Harding Folk Show)
4 Oct 2021 Ghost Owl on the airwaves (Radio Ulster)
14 Sep 2021 Ghost Owl - 4-Star Review! (RNR MAGAZINE)
8 Sep 2021 Ghost Owl "Passion, skill and intensity that takes your breath away." (AT THE BARRIER REVIEW)
3 Sep 2021 Ghost Owl is taking flight today on Scala Radio as part of New Release Friday!
 1 Sep 2021 "Ghost Owl, like its inspiration, is a thing of beauty." (FOLK RADIO REVIEW)
1 Sep 2021 Northern Sky says of Ghost Owl: "You will enjoy the flight." (Northern Sky Review)
25 Aug 2021 Ghost Owl pre-orders posted!
19 Aug 2021 Night Shift VIDEO 
11 Aug 2021 Ghost Owl in the press! Spiral Earth; FolkingDotCom; LiverpoolSoundAndVision.
10 Aug 2021 Ghost Owl VIDEO 
3 Aug 2021 Interview with Alan Ritson on FINE FOLK.
1 Aug 2021 Brooks Live Re-broadcast! Bound for Glory on WVBR-FM New York.
29 June 2021 Ghost Owl ! PRE-ORDER HERE.
26 June 2021 Live gigs! See Tour Dates.
18 April 2021 Grant Avenue LP arrives! AVAILABLE HERE.
2 April 2021 Conversation With Alan Stevens. LISTEN HERE.
18 February 2021 Farewell To The Gold Single/DL. Brooks w/ Kris Drever, Boo Hewerdine & Findlay Napier. AVAILABLE HERE.
8 February 2021 Golden Age: 25 Years Of Signature Sounds CD/DL. Features a guitar duet with Brooks and Jim Henry.
30 January 2021 Winter Moon 2021 Single/DL. AVAILABLE HERE.
29 January 2021 Conversation With Ben Slack At Swan Song Project. LISTEN/VIEW HERE.
14 December 2020 Conversation With Niki Timson Podcast. LISTEN HERE.
27 November 2020: Shaking These Christmas Blues 2020 Single/DL. AVAILABLE HERE.