Farewell To The Gold
(ft. Kris Drever, Boo Hewerdine, Findlay Napier)
In the heat of Covid Summer 2020, in a fevered dream, I was singing Farewell To The Gold on a big stage with three friends. To my right and left were Findlay Napier, Boo Hewerdine and Kris Drever. Using the tools we have available, that dream has become as close to reality as possible at the moment. Filmed and recorded across the miles, I thank Fin, Boo and Kris for the generosity of their time and ideas. If we ever get back to gigging, I hope there is a stage somewhere we four can belt this out in person. Please share it if you feel inspired.
It does so much good when you do!
VIEW FAREWELL TO THE GOLD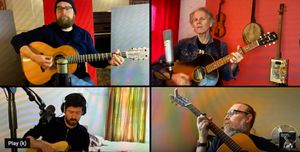 ---
LIVE STREAMING
March 2021
Three live streaming gigs this month. Two from home and one from a theatre. Details tba.
4th March CAST Theatre (UK)
(live stream from the stage of the theatre)
12 March Cambridge Folk Club (UK)
20 March Vanilla Bean Cafe (USA)
I'm hoping to play some new songs but please EMAIL me your requests and I will do my best to play it for you.
WINTER MOON (2021 Version)
For the first time in a long, long time, there has been lots of time to watch the changing seasons and the sky above me. All that watching inspired a re-haunting of an old song, Winter Moon. This 2021 version features the amazing Aaron Catlow on fiddle and the fabulous Lukas Drinkwater on double bass. Available for DOWNLOAD or streaming on BANDCAMP.