SUMMER 2021 Live Dates
26 Jun Bury St Edmunds Folk Festival, Bury St Edmunds, Suffolk
9 Jul Haverhill Arts Centre, Haverhill, Suffolk
14 Jul Baldock Folk Club, Baldock, Hertfordshire
16 Jul Birmingham Jazz Festival, Birmingham
17 Jul Songwriter In The Round, Village Hall, Alstonefield, Derbyshire
(with Boo Hewerdine & Findlay Napier)
19 Jul Ellis Theatre, Marlborough College, Marlborough, Wiltshire
6-7 Aug Down Home Festival, Alstonefield, Derbyshire
14 Aug Nettleham Village Hall, Nettleham, Lincoln
21 Aug Concert, Leicestershire (details tba)
22 Aug Whitstable Sessions, Whitstable, Kent (with banjo Dan Walsh)
---
HOW TO PLAY Video Series
It's in DADGAD tuning in the key of B-flat - but it's not as scary as it sounds. Here's a 'How To Play' video for "Late Night Train," another song from the "Grant Avenue Tapes" 12-inch LP. Have a look!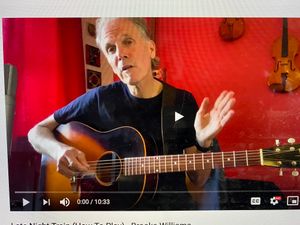 ---
The Grant Avenue Tapes 12-inch LP is out there and about. As it's my first vinyl, I love hearing back from people who've order it. Fabio, from Italy, emailed to say "Your beautiful record arrived safely and it's producing great music right now!" and he included a photo of his home hifi setup (see below). Matt in Massachusetts wrote to say "So great to have these songs on vinyl!! love it!!" Ken in Scotland emailed "Thanks for the music! Work My Claim (CD) is superb! We will have to wait on our listen to the [Grant Avenue] vinyl until we get a record player, but all in good time." Thank you all for keeping in touch!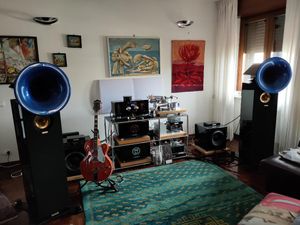 ---
      Roughly this time 29-years ago I recorded my album Back To Mercy over the course of 4-days in New London, New Hampshire USA. Johnny Cunningham (RIP) was producing and playing fiddle. Gerry Putnam was engineering. Kent Allyn played bass and Doug Plavin played drums.
      New London is a one of those classic northern New England towns. It's beautiful, with lakes, rivers and distant mountains. It's also a place where everybody knows everybody, and knows everybody's business too.
      On the evening before our first session I met Johnny in the bar next to the hotel. We wanted to touch base and I also wanted to give him the promised per diem (for food & hotel costs). I gave him the whole amount, because I didn't want to carry all that cash around with me. After a brief chat and a quick drink I left him to it and went to my digs.
      The next morning Johnny rolled in for our 10am session slightly rumpled but, as always, vibrant and musical and funny and brilliant. We had a great day of recording - we did most of it live in the studio - and the weather was perfect, which we enjoyed during our breaks.
      We wrapped up our first day of recording around 5pm, but I hung around the studio with Gerry for awhile. At that point the phone began ringing. Is Johnny there?, a voice asked. No, he's gone for the day. Who is this? Oh, no one. The phone rang again. Is Johnny there? A different voice this time. No, he's not. Who is this? Click. And so it went on for about an hour.
      Later, we found out from one of the locals that after I had left the bar the night before, Johnny, feeling flush with all the cash I had given him, was buying rounds of drinks for the locals and entertaining them (as only he could) with stories of Scotland. Apparently, those initial few people in the bar were ringing their friends and encouraging them to come down. There's great stories - and free drinks! As the evening went on, the bar filled to capacity and remained so until gone closing. Not bad for a Monday night, and something, I was told, doesn't happen that often, the local joke being we roll up the sidewalks at 9pm around here.
      The phone calls to the studio were from people hoping Johnny was going to make those sessions a nightly event. Which, as it turns out, he kind of did. The entire time we were there, like clockwork, the studio phone started ringing at 5pm. Is Johnny there?
      For years and years following the Back To Mercy sessions, whenever I was in New London (I recorded there again with Johnny, but I also play their great venue, too), people would stop me on the street and ask, Is Johnny with you?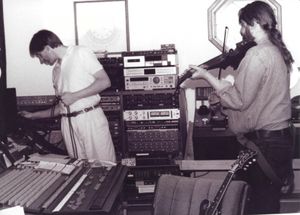 ---