CONCERTS - DOWNTIME - CONCERTS
 
I have only 3 more shows in 2021. It has been great to be back out playing live music again over the past 6 months, and I thank you for coming out to the shows. I'm happy to say that after a little downtime in January, I am back out there in 2022 with some exciting collaborations, including shows with violinist Aaron Catlow.
 
December 2021
 
9th The Lightship, Blyth Harbour, Northumberland (solo)
 
10th Roots Music Club, Doncaster South Yorkshire  (solo)
 
17th The Hawth Theatre, Crawley, West Sussex (solo)
 
January 2022
 
26th Irvine Folk Club, Irvine, North Ayrshire, Scotland (solo)
 
February 2022
 
2nd Grateful Fred's, Southport, Mersyside (Brooks & violinist Aaron Catlow)
 
5th Thimblemill Library, Smethwick, West Midlands (Brooks & violinist Aaron Catlow)
 
6th Chapel Arts Centre, Bath (Brooks & violinist Aaron Catlow)
 
19th-20th Guitar Workshop, The Blue Boar, Maldon, Essex (Reservations)
 
26th RAFA Club, Cleethorpes, North East Lincolnshire (Brooks & violinist Aaron Catlow)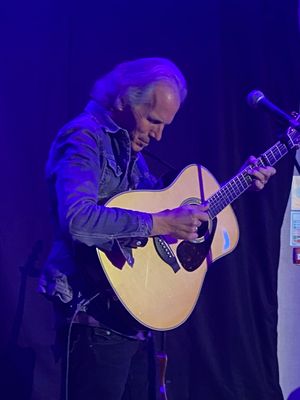 ---
SWEET GREENS AND BLUES
 
NOVEMBER'S FREE DOWNLOAD
 
November's free download is my arrangement of a song I learned from the music of legendary singer Shirley Collins. It's called Sweet Greens And Blues. These lyrics mean the world to me right now. I recorded it in the full light of day in the guest room at our house. There is a download link and code at the bottom of this email. That link will magically take you to the free mp3. Let me know if it mis-fires in any way and my staff (me!) will remedy the situation pronto.
---
GIFT IDEAS FOR THE SEASON OF GIFTING?
 
If you're looking for something a bit different to give to a loved one during this gifting season, consider guitar or mandolin lessons....or perhaps GHOST OWL, the recording of folky, acoustic guitar & fiddle duets I wrote and recorded with Aaron Catlow. Ya never know, may be just the ticket!
---
UP-CLOSE GUITAR
 
My series of acoustic guitar videos of some of my favourite songs and riffs...filmed up-close....continues with SEVEN SISTERS, JUMP THAT TRAIN, and GHOST OWL. Filmed without filter or software. Next best thing to being there.
---
WEBSITE
 
STORE
 
FREE MUSIC AND TAB
 
LESSONS & WORKSHOPS