UPCOMING PERFORMANCES
August
1st VIRTUAL Greenwich Village Folk Festival, New York, NY
(Watch on YouTube. Watch on Facebook. This online festival is FREE!)
7th Down Home Festival, Alstonefield, Derbyshire (sold out)
13 Blues Down Festival, Haydon Down Farm, Near Bridport West Dorset
14 Nettleham Village Hall, Nettleham, Lincoln
21st Concert (eve) / Workshop (aft), Leicestershire (sold out)
22nd Whitstable Sessions, Whitstable, Kent (with banjo Dan Walsh)
September
3rd Six Bells, Fulbourn, Cambridgeshire
 
---
INTERVIEW BROADCAST
Tune in on Tuesday, August 3rd at 7pm (UK Time) for my interview with Alan Ritson on Fine Folk, LCR FM 103.6.
 
---
'HOW TO PLAY' A CLASSIC BLUES
Leroy Carr's "In The Evening" is next up in the 'How To Play' series. Transform a simple 12-bar blues by adding a chord or two, a riff here and there, and a turnaround at the end. Add a dash of Big Bill Broonzy stylings and the result is some laid back picking for a summer's evening. WATCH THE VIDEO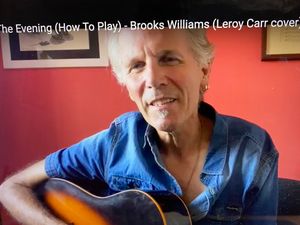 ---
GHOST OWL IS COMING 3rd September 2021!
      An unexpected turn in the road led me to this opportunity to write music for a recording inspired by the barn owl. The barn owl, I discovered, goes by many names. Billy Wix. Hoolet. Tyto Alba. Ghost Owl. The barn owl is, the experts say, an indicator species. If it is present, so are other wildlife. And if other wildlife is there, one can safely say it is a healthy and diverse habitat.
      In the fading light of a winter afternoon I saw a barn owl in a field near my house. Majestic doesn't come close to describing it in mid-flight. Its presence tells me the surrounding area is alive with what the barn owl needs to live. If it is finding what it needs to live here, then so are other species. I'm grateful that includes us, and that we can live alongside them too. Long may that continue. Pre-Order Your Copy Now!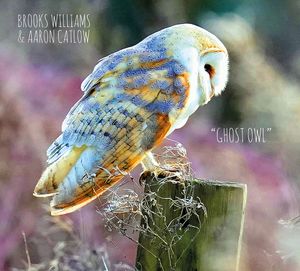 ---
      Long before Nashville was a television show, I drove there to play at the songwriter's mecca, The Bluebird Cafe. At that time most of their shows were what they call a songwriter-in-the-round, a hallowed and time-honored Nashville tradition where you put four songwriters on stage at the same time and let them swap songs for two sets.
      You never know what's going to happen. Yet unlike a show with separate sets from each singer, everyone is on stage at the same time. This gives stuff an opportunity to happen.
      Sometimes we just sit back and let the solo singer take their song on their own. Other times we might chime in with a harmony or a guitar riff, especially if we're familiar with it. Sometimes there's a clunker note or harmony.
      Sometimes it's like watching four separate trains roll into a station on four parallel tracks. Sometimes it's like The Red Arrows, criss-crossing in mid-air at dizzying heights and speed.
      In the best of the in-the-rounds, it's like a conversation between four songwriters around a kitchen table. Only they happen to have their guitars. Magic can happen in these moments. You just never know until it all gets going.
      The night I played a songwriter-in-the-round at The Bluebird (it was many years ago), they created an extra-special setting for us. Instead of putting us on four chairs on the stage, they put us in the middle of the room in a circle. We sat facing in toward each other, our four mics a little copse in the middle of our circle. Seated behind us in more cirles is the audience. A circle within a circle within a circle.
      A little weird to not be looking out at the audience initially, but it got easier. We sang to each other. We sang to the audience behind and all around us. We sang to all the great songwriters who had inspired us, whose photos line the walls of The Bluebird.
      When it was over we split the money four-ways and disappeared into the humid Nashville night.
      At the time I probably didn't reflect fully on what that it meant to me. I was too pre-occupied with driving myself to my next destination. But I get it now. Songs. Colleagues. Listeners. The jewels in the crown. It doesn't get much better than that.
---