SUMMER 2021 CONCERTS

July
14 Baldock Folk Club, Baldock, Hertfordshire (Reservations 07990 530778)
16 Birmingham Jazz Festival, Birmingham, West Midlands (Solihull 1pm; Blackheath Library 7:30pm)
17 Songwriter In The Round, Village Hall, Alstonefield, Derbyshire (w Boo
Hewerdine and Findlay Napier)
August
1 VIRTUAL Greenwich Village Folk Festival, New York, NY
6-7 Down Home Festival, Alstonefield, Derbyshire
14 Nettleham Village Hall, Nettleham, Lincoln
21 Guitar Workshop (aft), Leicestershire (sold out)
21 Concert (eve), Leicestershire (sold out)
22 Whitstable Sessions, Whitstable, Kent (w Banjo Dan Walsh)
September
3 Six Bells, Fulbourn, Cambridgeshire
Thank you to venues, organisers and volunteers for helping people like myself 'get back out there.' (Photo above from Ely Folk Festival by Ben Savage.)
---
'HOW TO PLAY' VIDEOS
The series continues with two new ones......
Church Street Blues (a new-ish song to my repertoire)
After You've Gone (from Lucky Star)
(Photo taken backstage at Ely Folk Festival by Jo Williams)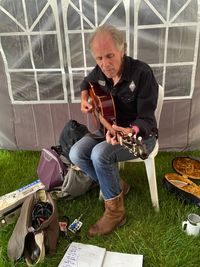 ---
GHOST OWL IS COMING
Opportunity comes from unlikely places. This past year it came to me through a stealth-winged, ghostly flyer, the barn owl. Aka Hoolet, Billy Wix, the Ghost Owl. It all started when Wildlife Conservationist and Filmmaker/Photographer Simon Hurwitz, featured on The One Show on the BBC recently, asked me to record a couple of guitar tunes to accompany a few of his short films. The more I learned about the barn owl, the more I wrote. A couple of tunes turned into an album's worth of music. I called on ace violinist Aaron Catlow to join me and the result is Ghost Owl. It will be released on 3rd September, but you can pre-order here! (Photo below by Ecki. We're outstanding in our field.)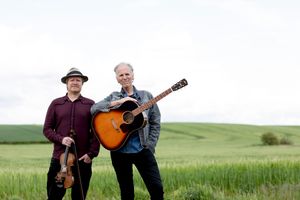 ---
      In the summer of 2006 I was on tour in the UK. I didn't live here at the time but had been over many times before then. Just never in the summer. And what a glorious summer it was. Adding to the excitement was England playing in the World Cup quarter-final.
      I left my digs in Wiltshire at kick-off time and worked my way along simply stunning - and very deserted - roads. Where is everybody? I asked a very bored petrol station attendant. Watching the match somewhere if they've got any sense at all.
      My journey lasted about as long as the match. Within seconds of passing the pubs and bars along Torquay's High Street, the roads behind me filled with hundreds of disappointed England fans. It was like Moses and the Red Sea in reverse. In the rear-view I saw the other cars didn't make it through the sea of people flooding the street.
      I kept going, the seafront on my left now, down a road to a quieter part of town where I found The Blue Walnut. Perhaps the smallest venue on the planet. Even smaller than London's old 12-Bar on Denmark Street.
      Small but mighty, I say. We didn't know what social distancing was in 2006, but if we had, it wouldn't have been possible at The Blue Walnut. There wasn't a bad seat in the house.
---