Brooks Williams & Aaron Catlow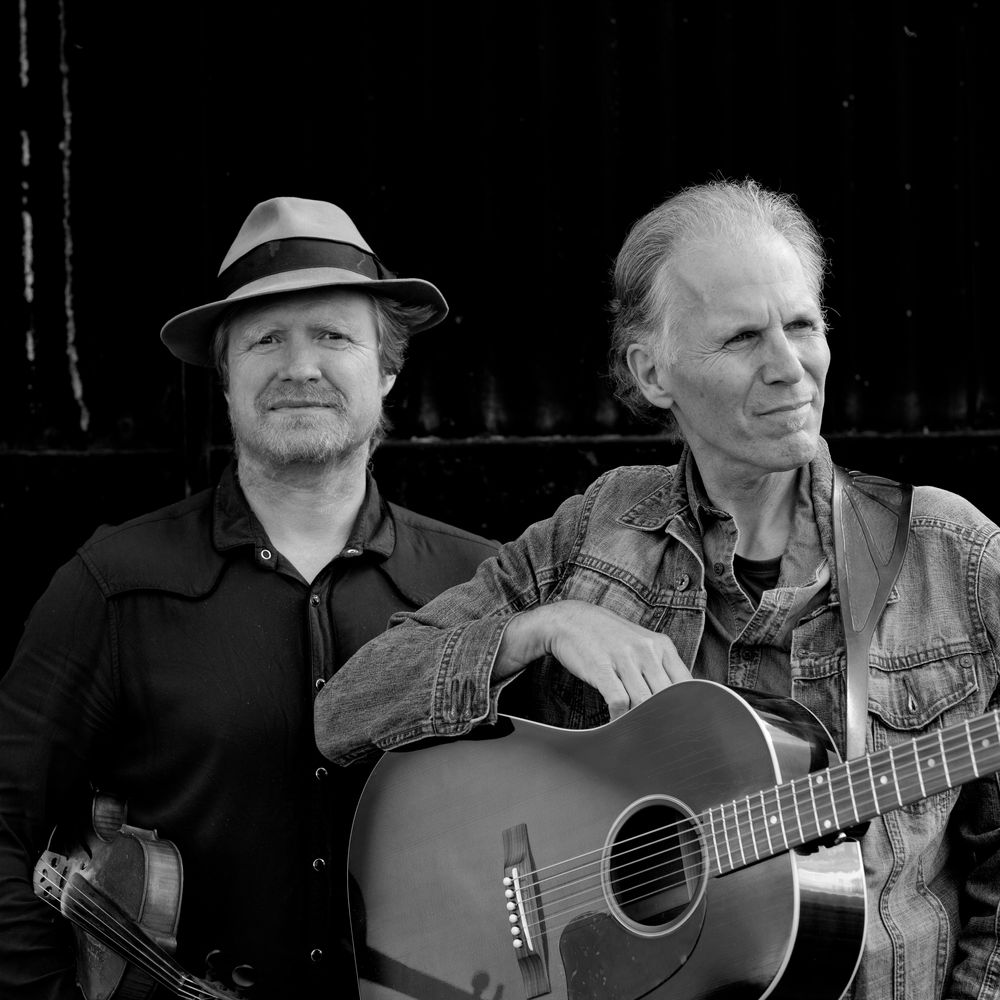 Trans-Atlantic Fiddle & Guitar Duo
"Aspiring fiddlers & guitarists need to listen closely." (At The Barrier)
Brooks Williams & Aaron Catlow take the guitar and fiddle tradition to new heights with soaring melodies and technical brilliance. Their Trans-Atlantic sound oozes bluesy folk with jazzy-Mediterranean overtones. These two are masters of their respective instruments.

Ready For The Times, their new album to be released in 2022, is recorded live-in-the-studio with no overdubs and shows just how versatile and brilliant these two musicians are.

They conjure Reinhardt & Grappelli with their swinging take of the 1920s song "If You Want The Rainbow." Tug the heart-strings with their 6/8 reading of Cheryl Wheeler's "Summer Fly." And shake the rafters with Williams' sounds-like-a-bluegrass-classic "Love Too Soon." And that's just three of the eleven songs. They're all great.

A chance meeting on tour in The Netherlands led to Catlow playing fiddle on Williams', Work My Claim. The magic was immediately evident.

In 2021, the two collaborated on a recording of guitar & fiddle pieces written for, and inspired by, the barn owl. The result is Ghost Owl, shortlisted Instrumental Album Of The Year by Fatea Awards.

Aaron Catlow is a master violinist and half of the Bristol-based duo Hawes And Catlow, with guitarist-singer Kit Hawes. He is also the fiddler in UK festival favourite Sheelanagig. Catlow's other credits including playing with Grammy Award-nominated Yola, Mad Dog Mcrea and Afro Celt Sound System.

Cambridge UK-based, Georgia US-born, Brooks Williams is known for both solos shows and collaborations with the likes of Dan Walsh, Sloan Wainwright, Boo Hewerdine and Rab Noakes, among others. He is named one of WUMB-FM Boston's Top 100 All-Time Artists. Fatea refers to him as "one of those select few 'how on earth does he do it?!' artists."

Brooks Williams and Aaron Catlow play music of the highest order. Stripped back. Virtuosic. A fiddle, a guitar and two voices. Light and shade. Full flight. "A thing of beauty" (Folk Radio).
"

The audience loved every minute and afterwards begged them to return to the stage. "
— John Barker (Big Wheel Blues)
"

One of the best nights ever. ​Great songs, great fun and wonderful musicianship. Two of the nicest people too. Do not hesitate. Go and see Brooks and Aaron while you can. You will have the best time."
— Colin Maddocks, Grateful Fred's
"

Recalls the style of Martin Carthy & Dave Swarbrick...Django Reinhardt and Stephane Grappelli."
— Songlines
"

Absolutely wonderful!"
— Mike Harding (Radio DJ)
"

An outstanding performance of sublime quality, entertaining and beautifully paced. Two musicians at the the top of their game. "
— RAFA Club, Cleethorpes
"

A thing of beauty!"
— Folk Radio UK
Press Photos