AUTUMN CONCERTS & GIGS 2021
Sep 2021
 
3rd Fulbourn Arts Presents, The Six Bells, Fulbourn, Cambridgeshire
 
4th Maverick Festival, Easton Farm, Suffolk (6pm & 8.30pm plus John Prine Tribute)
 
17th Salt Work Sessions, Northwich, Cheshire (Brooks & Rab Noakes)
 
18th AVH Concerts, Village Hall, Alstonefield, Staffordshire UK (Brooks & Rab Noakes)
 
24th The Steel Rooms, Brigg, Lincolnshire
 
Oct 2021
 
9th Private Party, Derbyshire
 
14th Bullfrog Blues, Southsea, Portsmouth
 
22nd Saffron Hall, Saffron Walden, Essex
 
29th Royston Folk Club, Royston, Hertfordshire
 
Nov 2021
 
5th (tbc) Concert, Isle of Man (Brooks & Aaron Catlow)
 
24th Middle Aston House, Ardley, Bicester, Oxfordshire INFO
 
Dec 2021
 
9th The Lightship, Blyth Harbour, Northumberland
 
10th Roots Music Club, Ukranian Centre, Doncaster South Yorkshire
 
17th The Hawth, Crawley, West Sussex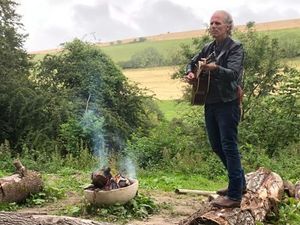 ---
GHOST OWL Reviews
 

 
Aaron Catlow and I are overwhelmed by the response to Ghost Owl. We are delighted that the tunes are resonating with listeners. Dick, on receiving his pre-ordered Ghost Owl CD, emailed to say, "Ghost Owl delivered, played and loved!" He included a photo of this little fella (below), a fledgling barn owl on the day it was ringed.
 
FOLK RADIO Review
 
NORTHERN SKY Review
 
LIVERPOOL SOUND & VISION Review
 
To get your very own Ghost Owl CD, please visit my STORE.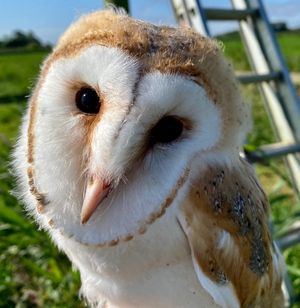 ---
 

ACROSS THE GREAT DIVIDE
 
September's Free Download
 
This month's free download mp3 is my arrangement of Kate Wolf's song, Across The Great Divide. I first learned this from Nanci Griffith. I've known this song for years, but have only added it to my repertoire in the last few weeks. This is recorded in my little home studio. It doesn't exist anywhere else. Your free download is attached/linked to this email. There's a download code. Please let me know this works. I've never done it before.

 

 

 

---

 

HOME SWEET HOME ON THE RANGE
 

 
He had me at "We'll pay handsomely." I was all ears.
 

 
It was his daughter's wedding weekend and no expense would be spared, he said. So on the agreed evening I drove to his rolling farm near Salisbury Plain. A long-lit summer evening, the golden fields of corn in the distance and cows scattered across green pastures as far as they eye could see made the perfect setting.
 

 
My stage was in a marquee. The sides were open. The view to my front and left was the fields, pastures and rolling hills. To my right the garden/lawn in front of the house. Along the 'ceiling' of the marquee was a kaleidoscope of balloons, bunting and fairy lights; on the 'floor' hightop bar tables with champagne flutes at the ready.
 

 
Only there were no people. Everyone was outside enjoying the warm and wonderful summer weather. I can't blame them. Make hay while the sunshines, is the expression that came to my mind. Were I not rooted to the stage and that sound system, I would have moved outside too.
 

 
From the stage I could make out the bottom half of the guests: suit trousers, shined shoes, dresses and high heels. Legs, legs and more legs. I noted who shifted from foot to foot as they conversed with the other guests. Who favoured one leg over the other, in terms of their stance. I imagined who might be wishing they could chuck off those fancy and possibly uncomfortable shoes for the barefoot delight that perfectly manicured lawn could offer.
 

 
I sang in the direction of those legs for awhile. Then turned my attention to the fields and the evening sun. The end of each song was greeted by the rustle of the corn and the distant song of the nightingale.
 

 
Toward the end of my 'set,' Jo and a few of the guests began looking at something to my left. Their attention drew my attention, if you know what I mean.
 

 
Over there, just beyond the edge of the marquee, about half-a-hundred cows from the big field had ambled over the fence and were looking attentively in my direction. They were jostling to get to the front of the fence closest to me. It was a bovine mosh pit.
 

 
What does one sing to cows? Keep it upbeat, I thought. I turned in their direction to face them completely and sang my last few songs for them. At the end I gave them a bow. They ambled away like cows do, and I packed up my guitars the way I do. 
 

 
Later, as Jo & I drove away down the long dirt drive, I saw my "fans" scattered across the fields. I watched them in the rear-view mirror through the clouds of dust my tires were trailing.

 

 

 

 

 

 

---