Grant Avenue Arrives!

As the pre-orders of my first 12-inch vinyl record, Grant Avenue Tapes, wind their way through the post to turntables around the UK and the US (and even one to Germany!), I've been receiving some lovely texts and emails...and photos of the album!

One text praised the warm sound of the vinyl and how it brings out the sound of the guitar. Two emails praised the overall sound ("truly amazing!") as well.

Have you ordered your copy yet? Only 250 made! A one time only vinly-only release. Numbered and signed in silver sharpie by yours truly. Order your copy here.

And, attached to an email, this photo. What's not to love about this?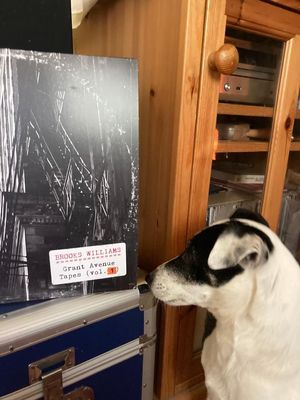 ---
KNIFE EDGE - HOW TO PLAY

One of the songs on Grant Avenue Tapes is called Knife Edge. It's a love song with jazzy chords and a light, percussive John-Martyn-acoustic-inspired backbeat.

The lyrics, chords and chord diagrams are available for free download here. And I've created a short how-to-play video too. View it here.
 
---
Where Is Everybody?
I caught the early morning flight from Boston USA to Halifax, Nova Scotia Canada. The Departures lounge was virtually empty. One man and his dog, to quote the old expression that I love. The flight was so empty the airlines allowed me to carry my guitar onboard. It got its own seat - how cool is that!?! - and ordered a couple vodka tonics before I could stop it. A small price to pay, I think.

My host/booker for the weekend was waiting for me outside baggage claim in Halifax. I put my guitar in the back of his Volvo and we drove out into the brilliant sun of an Autumn morning. As we had loads of time, and I had never been to Nova Scotia before, he offered to drive me around so I could get a feel for the place. I eagerly agreed. We eventually ended up at Peggy's Cove (beautiful!) before heading back up the coast. As we approached the city limits of Halifax I voiced a question I had been formulating all day. Where is everyone? What?, he said. Where is everyone?, I repeated, At a big football game or something? I don't know what you mean, he replied. This is everyone.

I might not have been that tuned-in to it back then, but here's to finding beautiful spaces with a bit of breathing room!
---