Live Music - Perhaps?
Baby steps, as they say. The UK is opening up a bit as the vaccine programme rolls out further and further here, so there might - just might - be a gig or two showing up on the near horizon.  As I type this, tentative plans are being made for a few summer in-person gigs. Here's what we're working toward...so far....

June 2021
26 Bury St Edmunds Folk Festival, Suffolk

July 2021
14 Baldock Folk Club, Hertfordshire
17 Village Hall, Alstonefield, Derbyshire
(Songwriter In The Round With Boo Hewerdine & Findlay Napier) TIX
19 Ellis Theatre, Marlborough College, Wiltshire

August 2021
6-7 Down Home Festival, Alstonefield, Derbyshire
14 Nettleham Village Hall, Lincoln
21 Concert, Leicestershire
22 Whitstable Sessions, Kent (cobill with Banjo Dan Walsh)

Information will be updated as I receive it - on my website
 
---
There's Nothing Like Vinyl!
All advanced orders of my first 12-inch LP - Grant Avenue Tapes - have shipped. Thank you for purchasing. The analog beauty  of the 1995 recordings really shines on vinyl, especially the acoustic guitar.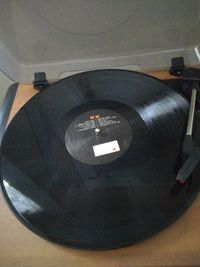 I'm told that even the copies I mailed from the UK have even begun to arrive in the USA. Here's a photo I was sent. The sender says. "Its first spin in the USA!"


Have you put in your order yet? Only 250 pressed! Signed, numbered and shipped by yours truly. Order your copy here.

 
---
KEEP THOSE CARDS AND LETTERS COMING!
Are you of an age where you can remember radio DJs and TV talk show hosts saying that? Cards and letters aren't really a thing anymore, but emails and texts are. I really appreciate when I receive one and try to 'pay it forward' by making sure I let others know how much I appreciate their work. Here's one message that came the other day (used with the sender's permission):
"Hope all is good. No lesson this month but plugging away on existing stuff and have a few ideas for new work. Main reason for email - just wanted to tell you I have been listening closely to Brooks Blues and I really hadn't appreciated how good it is. Think it was always on in the background before. Great album. Well done. For what it's worth."

It's worth a lot. Thank you!
---
RAPTOR MADNESS
      I've been beavering away on an album of acoustic guitar and fiddle duets (written for and inspired by the Barn Owl) since January. More on all this later, but thinking about owls, and raptors, in general, brought to mind an experience I had in Vermont USA a number of years ago.
      The promoter - let's call him Matt - said, Why don't you stop by the house before going to the gig and we can drive over together. Little did I know he lived ten miles into the Green Mountains, down long, rutted dirt roads, made even more treacherous by the March melt-by-day/freeze-by-night cycle that they call Spring in Northern New England.
      Matt wasn't at the house when I arrived, but his wife, let's call her Francis, was there to greet me with a cup of tea. We had a chat at the table in the big room with all the windows and sliding doors that open onto the decking. She's talking about the design of the house, the south-facing attributes, when our conversation is interrupted by a huge crash.
      A red-tailed hawk had smashed into one of the windows and lay quivering on the decking. Francis sprang into action like a super-hero, flinging open the door and, in one motion, removing her fleece jacket, wrapping it around the hawk, picking it up and and placing it in a closet just inside the door of the house. It's one of those closets where you put muddy boots and jackets. Just opposite the table where we are sitting.
      She comes back to her tea as if nothing out of the ordinary has just happened and says, He'd die of the shock if I left him out there, that is, if he hasn't broken his neck. The stillness and the dark - and the warmth - will do him good. I nod in agreement like I know these things.
      She continues about the birds she sees, and how the raptors sometimes get drawn in to catch them, and how that draws in other prey. The circle of life, she says breezily, a beauty to behold.
      Thump. Thump. She pauses. Thump. Thump. Coming from the direction of the closet. I guess he didn't break his neck, she says. I hadn't really considered anything beyond getting him out of the cold.
      Thump. Thump. Matt's in for a surprise when he gets home, I say. Thump. Thump.
 
---